Home
Stella Compton UKCP Reg.
Private Clinics in North and Central South London.

Frequently asked questions

What will be expected of me?

Starting therapy is a significant and often brave decision that requires some commitment. The therapist is ethically bound to treat you with respect and empathy. She will aim to help you to feel safe, at ease and gradually to understand yourself better. Therapy can be a gradual process of development and change. For this reason we meet weekly to maintain a consistent approach.
How might cognitive analytic therapy help me?

CAT involves developing therapy 'tools' during the course of the therapy. These provide structure and a focus to the agreed target problem to be addressed in the therapy. The therapist will also prepare a 'reformulation' letter for you. This is specific to CAT therapy and should help to clarify your understanding of the problems that you are working on during your treatment. Jointly made diagrams can also help you to develop your relational understanding , as well as in finding new ways of understanding yourself, others and the world. You may also choose to draw or to make music during the sessions. To get satisfactory results in a short period of time the therapist will help you to focus on your main issues. The tools should remain useful to you after the therapy has finished
Why might adding a creative arts component to my therapy be useful?

CAT is an actively creative therapy. If you have an arts based creative desire that you have never had a chance to safely express without being judged, this may be included within your therapy at a time that feels right for you.
If you find it easier to express yourself through other mediums rather than with words;
If you find it difficult to put your thoughts and feelings into words.
If you feel numb and can't access your feelings;
If you simply feel a little bit adventurous and would like to experiment with how different sounds affect you.
Do I have to use music?

No. CAT is a complete, integrative therapy in itself. If you decide you would like to experiment with an element of music making, the sounding bowl can be tried at any stage.
This instrument is uniquely useful as it does not look, feel or sound like a standard musical instrument. Where words are not enough, these bowls can provide a way of re-connecting and expressing yourself spontaneously without fear.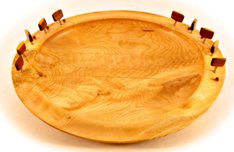 Fees

This is a private treatment service run from discreet clinical rooms in Muswell Hill, London N10 and at the Munro Clinic , Guys Hospital, London Bridge.
Fees are payable at the time of the sessions. The sessions are of 50 minutes duration. The fee is negotiable, and a sliding scale of fees operates at the therapist's discretion, this is related to the client's level of income.
Please contact us for further details. Fees are payable directly to the psychotherapist in cash or by cheque at the time of your session, or alternatively by direct bank transfer prior to the session. Initial brief meetings and a phone conversation to discuss a treatment contract are usually free. A formal assessment appointment will be charged at the standard fee.